Worldwide Insure review. – Read the full product review about WorldwideInsure.com here You can find out more about their insurance products including car hire excess insurance and travel insurance.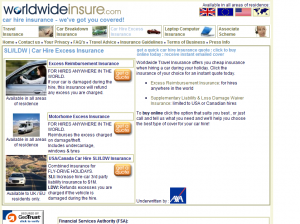 Insurance products from Worldwideinsure:
Car Hire Excess Insurance
Travel insurance
Breakdown Insurance
Product Descriptions
Car Hire Excess Insurance – Excess Reimbursement Insurance for Car Hire
This insurance policy covers the car hire excess charged following damage or theft  to the rental vehicle including the undercarriage, windows and tyres.
Product Details
Available for residents of any country
Drivers age: between 21 – 84
Home Country rentals are covered with no limits
You can pay in EUR or GBP
Annual policy and Daily policy is also available
It covers additional drivers named on the rental agreement
Excess Cover up to 3000GBP
Covers damage to windows, tyres, undercarriage & the roof
Car key loss and Miss fueling cover
Daily Policy Price from £1.9 >>       Annual Policy Price from £45 >>
Underwritten by White Horse Insurance Ltd.
Travel Insurance | Holiday Insurance
Worldwide Travel Insurance offers you cheap insurance for UK, European or Worldwide holidays. They have travel insurance options to suit all travellers, whether holiday or business. Most medical conditions can be insured. 
Product Details
Annual and single trip cover
EU, UK, USA or worldwide cover
Travel insurance available for up to 75 years old
Available in  Standard, Super and Elite package
Business cover and winter sport options can be added
24hrs Emergency help line
Annual Multitrip Insurance from £36.50 >>   Single Trip Cover from £0.90/day >>
Car Breakdown Insurance
Breakdown & Recovery in Europe
Cover your car or motorcycle.

Multi-trip or Single trip options available.
10 days European car breakdown and recovery insurance for £37 >>
Payment methods when you buy your policy from WorldwideInsure:


The payment process is secured on the site by Geotrust if you still have concern
you can pay with Paypal.
My personal review :
I bought annual travel insurance and also daily and annual car hire excess insurance a couple of times from worldwideinsure.com for myself, family and friends.
First time I had some question but get a quick response by email within an hour. Ever since I first used the site
they added these details and information and now it's more clear what's included the price.
The ordering process is very simple and they send the policy by email instantly. The site design not so fancy in 2012
but it does the job.
I would recommend worldwideinsure.com because their policies are good value for money ie. the car hire
excess reimbursement daily insurance for £1.90/day a really good offer.