Questor car hire excess insurance review – Questor car hire insurance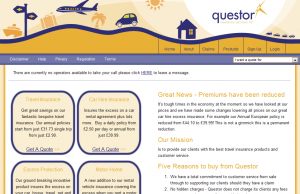 Insurance products from questor-insurance.co.uk:
Car

Hire

Insurance

Travel Insurance
Product Descriptions
Car hire excess insurance
Questor excess insurance policy covers the excess charged by the rental company at the event of damage or theft during your car hire period including windows and tyres.
Product Details
Available for residents of any country
Drivers age: between 21 – 84
Home Country rentals are covered for only residences in UK/Ireland
You can pay in EUR or GBP
You can buy Annual policy or Daily policy
It covers up to 6 additional drivers named on the rental agreement
Excess Cover up to £3000 (with £2000 single accident limit)
It covers damage to windows, tyres, undercarriage & the roof
Lock out and Car key loss cover included – will cover up to £500
Baggage cover up to £300
Daily Policy Price from £2.50 >>       Annual Policy Price from £39.99 >>
Underwritten by White Horse Insurance Ltd.
Motorhome Hire Excess Insurance
This Motorhome Excess Insurance is Covering the excess (excluding the first £100) when you rent a motor home or camper van. Questor Motorhome Excess Reimbursement Insurance also covers the tyres, windscreen and the underbody of the camper van.
This Motorhome Hire Excess Insurance will cover:
Excess reduction to just £100
£2000 excess protection in Europe £5000 worldwide
Works with any motorhome rental companies anywhere
Up to 30 days continuous excess protection
No distance from home restrictions
A low cost flat daily rate from £7.14/day
Lock out and key loss cover up to £500
Tyre, windscreen, roof and undercarriage
Buy daily camper van hire excess policy from Questor and save ££/€€ >>
Underwritten by White Horse Insurance Ltd.
Questor Travel Insurance
Worldwide Travel Insurance offers you cheap insurance for UK, European or Worldwide holidays. They have travel insurance options to suit all travellers, whether holiday or business. Most medical conditions can be insured.
Product Details
Backpacker, annual and single trip insurance covers
EU, UK, USA or worldwide cover
Travel insurance available for up to 85 years old
Available in Economy, Standard and Deluxe packages
Business, cruise, golf cover and winter sport options can be added
24hrs Emergency help line
Single Trip Cover from £2.50/day >>
Underwritten by White Horse Insurance Ltd.
Payment methods on questor-insurance.co.uk: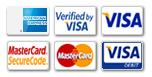 My personal questor-insurance.co.uk review:
The site doesn't have the best design but it does the job offering good value car hire, motorhome rental and travel insurance. The customer support is good "Live Chat" is available during the purchase so if  I have a question it can be answered right away. You can also call Questor if you have any further question or visiting Questor Insurance's site when live support is offline. They will send the insurance policy to your email address so no waiting for post to
arrive.
Every details well explained about the policy and all document displayed to review before you buy it. So I think there is nothing to hide no small prints or surprises after buying your insurance policy.  If you change your mind they providing a 14 cooling of period while you can cancel the insurance and Questor give you a full refund.
The only "problem" I came a cross while buying from Questor that their calendar does not work in Chorme browser I had to type in my travel dates.
I would recommend questor-insurance.co.uk  to buy your policy with. Their policies are written in plain English offering a good value for travelers. Ohh.. and Questor don't charge you when you use a credit card.