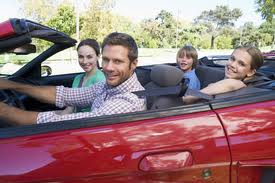 This might sound crazy but it's true. Car hire actually costs more when you have children. You may end up paying £500 in extras when you travel with your kids. What is the reason for this? Let's find out together.
Hiring a car shouldn't be that expensive but unfortunately many car rental companies adapted the Ryanair-style pricing. What does this mean? Well, the add-on fees can actually double the price of a 2-week rental. When you check the prices a Ford Focus or similar rental car for 2 weeks in Spain would cost £ 562 with Hertz in France it would be £631 with Avis. You can also check Europcar's site and you can find out that they would charge you £600 in Malaga. Sometimes local firms are quite cheaper.
But a family of your with 2 kids could be charged more than £400 in extras for a 2-week car rental in the sunny Spain. If they want sat nav or even extras that could be as high as £500.
It's important to know that quotes that are given only covers the absolute minimum. If you want an extra driver that would be £11/day with a maximum fee of £97 (Hertz). Are you traveling with you baby or toddler then you should pay for child seat or for booster seat which can be pretty expensive, £9/day (£60 for the fortnight) with Avis.
You might also think that the standard collision damage waiver will cover you then you're wrong because you need to read the small print and check the excess. It can be as high as £2000. It's a lot of money.
What do you need to do? You have to buy super collision damage waiver insurance (SCDW) toun cover your excesses, windscreen or tyre damage.The price is the following: for a fortnight it would cost £205 with Europcar, £207 with Avis and last but not least £131 with Hertz. It can also happen that you won't know the total cost until you pick up your rental car.
The problem is that many holiday makes arrive at the destination tired and exhausted and they end up with a take it or leave it situation. Because car hire companies want to sell you excess reduction insurance and they always use their scare tactics. They want you to feel brow-beaten and insecure in a foreign country so you would surely buy their insurance. This is really bad and unprofessional too.
When car hire is cheap you can be 100% sure that you have to pay high excess and they'll get you with a huge insurance premium. It can also happen that they want to charge you for damage that you didn't cause.
It is almost impossible to make an informed choice because even the biggest car hire companies want more money from their customers. What does it cost to get a SCDW insurance from Hertz? Well, it's a good question because they won't tell you until you arrive. It's the same with Avis. When you book the car they can add SCDW and extra driver to your booking but they won't tell you the exact cost. Europcar is a bit different though. When you book the car you can actually list additional extras on their website. You might also wonder why some costs cannot  be paid in advance. It's because they source them locally
So how to avoid rip-off when you hire a car – tips
Child booster seat: if you can take it then you should do it otherwise it would be pretty expensive. You can even buy inflatable ones.
Fuel: try to stick to the following rule –  pickup full and return full. Otherwise it can be very expensive because they can charge you  a absolutely crazy price for th fuel.
Satnav: if you have one take your own because you can save money with it. Have you ever used paper maps? They'll definitely d o too and they even fit in your pocket.
Insurance:  buy car hire excess insurance before your trip and you'll be fine. This type of insurance also covers tyres, windscreens. You can buy daily or even annual policy. Prices start from £1.85/day in the Eu and £2.20/day worldwide.
Currency: This one is a tricky topic too because some car hire companies want to convert your bill to pounds. Don't accept is because you'll end up with a lousy exchange rate. Try to pay in local currency
Checking the car: Checking your car is crucial before you leave the parking lot. You can save actually money with it. Small marks, dents or scratches can cost you a lot. Always insist they marked on the rental agreement. Take pictures too. If you're not entirely happy with the rental car then you shouldn't take it. This is the same when you drop off the car. Take photos so you can actually prove it that there was no damage. The car rental company should check it in front of you
Hopefully these tips will help you to save money on car hire and have a peace of mind when you're on holiday.